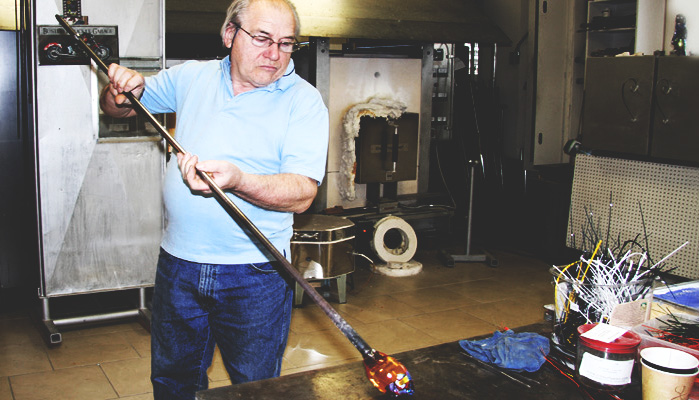 Born in Venice, Italy, Angelo learned his extensive glass art skills from the Italian Masters. He comes from a family with a long history in glass making and his work is a reflection of the closely guarded secrets handed down over many generations within his family.
At the age of 10, he began his career in Murano, Italy under the watchful eye of his father who made glass until he was 80 years old. Over his long career, Angelo has been a teacher and mentor to many who admire his work and wish to follow in his foot steps. He creates sculptured glass and his work is considered a collectable piece of art. His technique and manipulation of hot glass is undeniable and known around the world.
You can find history of Angelo in the Canadian libraries and the Toronto Museum of Art. Renowned for his highly sought after cranberry glass, Angelo's design uses 22 K gold, making his designs a true treasure for collectors. He is the only one to bring the use of cranberry and different colours of glass to Canada. Angelo has produced thousands of hand crafted works of art.
Visit the Angelo Rossi Galleria & Studio located at the Skylon Tower 5200 Robinson St. in beautiful Niagara Falls, Canada and take home a piece of history. If you're looking forward to watching a live demonstration and would like to see Angelo make his gorgeous glass sculptures right in front of your eyes, please call 905-354-1200 to find out what time daily he will be sculpting.
Photography credits on this page: Venice, The Grand Canal ~ Wolfgang Moroder (cropped from original). Angelo Rossi ~ Amy Seagram.